Cygnus Soundtrack Design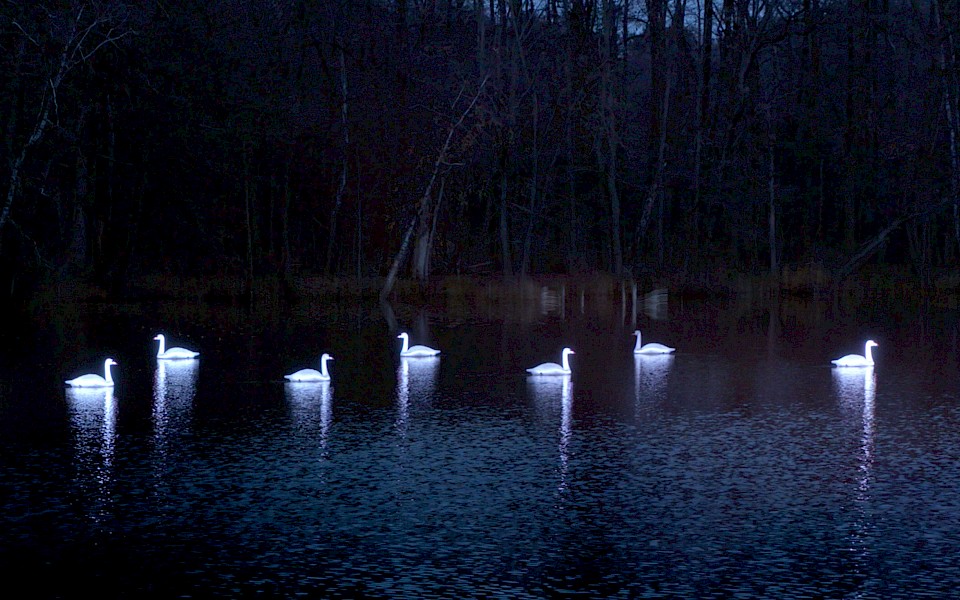 Electronic musicians sought to design a soundtrack for 15 robot swans!
Submerge are seeking an early career electronic musician or sound artist (solo or group) to arrange and perform a soundtrack of their adapted original material in response to Cygnus, a choreography of robot swans by Loomaland; international artists who use light, sound & sorcery to create art installations and performances.
We're looking for a musician or group to adapt their existing audio material to complement the seven themed sections of the performance installation "Cygnus: The Seven Shapes of Swan" which will last one hour. Loomaland artists Denis Bivour & Florian Giefer will be available to support the selected artist or group over a six week period with weekly check-ins and feedback on the development of the score.
The project will culminate in a live performance of the completed soundtrack via Facebook Live (without the swan installation). We eventually hope to be able to invite you to perform your soundtrack live alongside the installation as part of an outdoor performance in Autumn 2021, subject to funding.
Project Outline
The selected artist or group will receive:
– £1500 fee to adapt and arrange their original music in response to the themes of the live performance installation "Cygnus: The Seven Shapes Of Swan".
– Weekly check-in and feedback from Loomaland artists Denis Bivour & Florian Giefer.
– Support to livestream a performance of your created soundtrack via Facebook live (without the swan installation).
– Post-sharing feedback from Submerge and project partners.
– Potential to perform your soundtrack live as an accompaniment to the Cygnus installation in autumn 2021, subject to funding, suitability and logistics.
The selected artist will respond to the one-hour live performance installation of "Cygnus: The Seven Shapes of Swan." In this performance, the swans traverse the universal cycle of genesis and demise via seven geometric concepts. Each shape is connected symbolically with a development phase of creation and decay in life and social structures.
DOT (Genesis) – Symbolic, Wake-up Call, Soft and Natural
LINE (A New Path) – Youthful, Playful, Baroque, Dance
SQUARE (The Dogma) – Static, Monolithic, Self-indulgent
CROSSING (Conflict) – Energetic, March
LABYRINTH (A Long Journey) – Fragmented, Searching, Oscillating
CIRCLE (Old Wisdom) – Humming, Hymn, Peaceful, Harmonic
IOTA (To Eternity) – Melancholic, Requiem
We intend this to be a loose framework and when adapting and arranging their material we would encourage artists to take musical and lyrical inspiration from mythological ideas around swans and geometry, along with historical sources and existing music and literature around the topic.
Timeline
Deadline for Submissions: 5pm Friday 29th January 2021
Applicants Informed of Outcome: Weds 3rd February 2021
Project Development: Thurs 4thth February 2021 – Sun 21st March 2021
Presentation date
Thurs 18th – Sun 21st March 2021 (to be negotiated with artist and project partners)
Eligibility
This opportunity is open to all UK artists working in electronic music and sound. Artists should be able to evidence a track record for delivering electronic music or sound-based material. No formal educational qualifications are required. Artists should be available for the entirety of the dates of the project.
The project brief is to develop and arrange your existing material based on the project themes, with additional lyrical/audio material added to match the work, developed over the project period. Whilst we expect the work to be based on your existing material, please do not apply pitching the performance of already completed albums.
We are open to applications from a wide range of artists, but artists should be a 'good fit' for the values and sound of Submerge (please see our website to get a sense of the work we programme). We especially seek to support queer, trans* and disabled artists and artists who experience racism in our society.
This is a paid opportunity to generate a live soundtrack in response to an existing installation of robot swans, resulting in a performance of your music to Submerge audiences via streaming services in March 2021.
Whilst we expect the finished soundtrack to be delivered as a live performance and via recorded MP3/WAV files, the intellectual property/rights of any material developed by the artists will always remain with the artist. Submerge asks that artists do not perform or release the work created for the project until the live project has been shown, or for a fixed period to be agreed between the artists and Submerge.
Applications
Please send proposals to [email protected] with the subject line "Cygnus Soundtrack Design" and provide up to two pages that include:
– An introduction to who you are, your music practice and your performance history (400 Words Max)
– Why you are interested in working with Submerge and Loomaland and how you would approach the development of a soundtrack on the theme of The Seven Shapes of Swan (200 Words Max)
– Relevant links to your website and artist social media (eg artist Instagram, SoundCloud, Bandcamp, Twitter).
– No more than 3 audio or video links to your previous audio work.
– A completed equal opportunities monitoring form, downloadable here (these are anonymous and will not be viewed alongside the application, and will not inform our decision making).
You may apply via a video message, ensuring it contains the same information as requested above, within a 5-minute maximum duration. Decisions will be made based on application, without the requirement for interviews. Projects will be shortlisted by Submerge, with final commission decided by Submerge in partnership with Loomaland and Quays Culture. Please note, we will not be able to provide detailed feedback on applications.
Access
Accessibility and inclusivity are important to Submerge and we are committed to making application and participation processes as accessible as possible. If we can provide you with information in a different format or you have any questions regarding this project please contact Submerge by email on [email protected]
Submerge is committed to providing equal opportunities and accessibility. We are firmly committed to working inclusively, and work continuously to try and ensure Submerge is an anti-racist environment.
Covid-19
This project is intended to be a self-contained commission with weekly check-ins with the artists and Submerge, undertaken via zoom. The project will culminate in a live-streamed, covid-safe performance, either from your home or from a streaming location supported by project partners. Where an artist may require streaming support, we will negotiate with project partners to consider how we may offer this safely.
Acknowledgments
Submerge is kindly supported by Arts Council England with National Lottery Project Grants funding.