Olivier de Sagazan talks to Submerge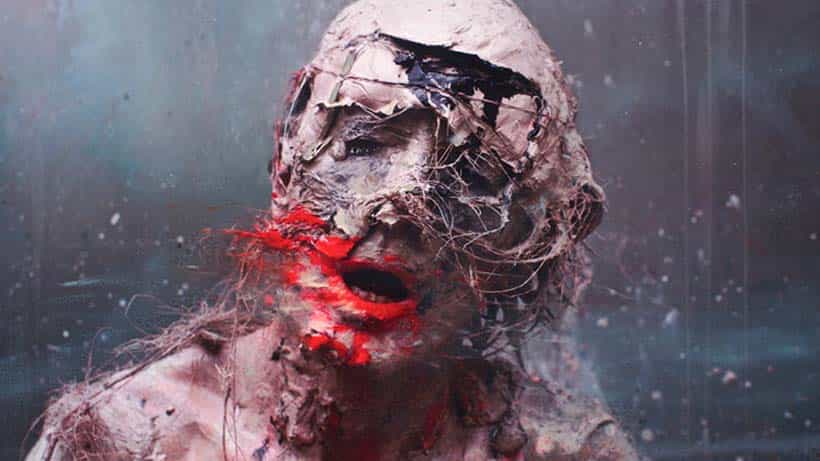 Interview with Olivier de Sagazan
Like global warming, performance art has been on a steady rise in recent years. What was formerly the stuff of obscure loft galleries or underground kink clubs, has started to infiltrate the broader art and music scene. Some of it is clichéd trash, but a few artists stand out with a depth and rawness that is urgent and arresting.
For over 20 years, Olivier de Sagazan has been making painting, photography, sculpture and performances that explore the process of disfigurement and the strangeness of the body as a machine. Working with clay and paint, he builds layers onto his body, sculpting, tearing and transforming into different figures, monsters, totems and beasts.
Primal and disturbing, de Sagazan's work is an investigation into what we might think of as bare life – the excluded, the nameless. "I have always been flabbergasted", says de Sagazan, "in seeing to what degree people think it's normal, or even trite, to be alive". His background is an interesting one – born in the French Congo and now living in France, he originally studied biology, before moving into painting and sculpture. "I feel like I'm still doing biology", he muses, "in the sense that it's not about good or evil. I just distort and deform life, to make it say something."
I have always been flabbergasted in seeing to what degree people think it's normal, or even trite, to be alive
Oliver de Sagazan
de Sagazan has exhibited and performed widely, and also created work for film – including for the 2011 feature length film Samsara. In a rare visit to the UK, in November he will perform at an ambitious new festival in Bristol. Submerge is the vision of festival director Mike Pony, who has made a name for himself in bringing together performance art, music and parties in Bristol for almost 10 years. This new project encompasses electronic music, audiovisual art, performance and immersive club nights, in venues ranging from railway arches, to concert venues and a disused morgue.
One of these events is Ghosts, an afternoon of dark, body-based performance (from London-based artists Hellen Burrough and Philip Bedwell) and intense vibrational sounds (from Detroit techno producer Rrose), in the beautiful surrounds of an 18th century church. Here de Sagazan will be presenting Transfiguration, an ongoing performance series he has been developing since 1999. "After a lot of years of exploring disfigurement through my painting and sculpture", de Sagazan explains "the clay is a means to continue this research but using the body as an output medium. As I deform myself with the clay and the paints I immediately enter into a dance."
In a city known for dynamism in visual arts, theatre, clubbing and DIY culture, Submerge seems to bring them all together in new and interesting ways. Performance artists are programmed alongside laser shows, live sculpture and international DJs. It's billed as a hybrid arts and music festival, infiltrating "the hallowed halls of established institutions, and the unexplored and underground". de Sagazan says of his artwork "Life is about being aware of what's going on around you. The only way to keep that thrill going is to always have a fresh look on things, to capture the singularity of every moment." Mike Pony seems to have the same outlook, presenting bold and invigorating work in non-art spaces and plunging audiences into new experiences of the unexpected.
It's exciting to see de Sagazan performing in the UK, especially in such an exciting and ambitious context. "I'm trying to find things, but also to twist the audience's eye", says Sagazan. And here, they're ready to be twisted.
Dr Paul Hurley,
Artist and Associate Lecturer in Visual Culture, UWE.