Making Intimate Performance Micro Commissions

Image: Lee Baxter
A Submerge micro-commission for three artists to explore one-to-one performance.
In January 2021 Submerge offered an open call for three North-West based artists working in drag, club performance and cabaret to experiment with the creation of new covid-safe live one-to-one encounters. The project was aimed at artists who had not had much experience of working in contemporary art and performance contexts. Selected artists received coaching from Submerge and mentoring from artist Jo Bannon.
The main purpose of the commissions was to test the possibilities of covid-safe performances that could offer audiences a safe, live and in-person experience during the lockdowns caused by the Covid19 pandemic, and prioritised safe and innovative ways for audiences to interact with live performance during this difficult time.  The project was specifically for drag, club and cabaret artists.
These following artists were selected to develop projects projects as follows:
LYDIA L'SCABIES
Lost is a new performance by drag artist Lydia L'Scabies. The work plays with the tricks and format of horror attractions to illuminate gay mens experiences around confidence, loneliness, self esteem, homphobia and stigma; and why some gay men turn to chemsex to drown out these feelings. The piece is designed for an audience in a locked car in a deserted landscape, such as dark urban, industrial or woodland settings which might be associated with cruising or dogging.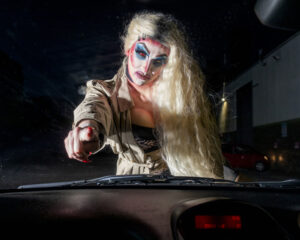 Emerging from the darkness, the artist flirts with and seduces the audience from the outside of the vehicle, before becoming more desperate and horrifying as they try to get into the car. The piece is performed to an edited score which the audience listen to from inside the car whilst the artist performs. This comprises false advertising around the idea of sexual performance drugs, classic love songs and verbatim interviews with the artist around chemsex and risky behaviours. The result is a playful but sinister work which leaves audience hearts and minds racing.
"I felt giddy afterwards, it was really fun… but I also felt on edge because it was intense; the desperation and loneliness." – Audience Member
TAMMY REYNOLDS
Get In Loser, We're Going Shopping is a performance by artist Tammy Reynolds (Midgitte Bardot) for one audience member at a time. Meeting outside the supermarket, audiences have a one-to-one conversation with Tammy over the telephone as she leads them around the store. Audiences are requested to bring a shopping list of three items which they are committed to purchasing during the performance. Get In Loser, We're Going Shopping is both an illumination of the systemic ableism faced by the artist as a disabled person, and a darkly comedic encounter with an artist of huge wit, charm and candour.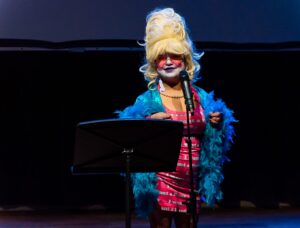 "It's a political act to leave the house for a disabled person, especially a physically disabled person. I would say that the things I'm doing aren't vulnerable, but they're vulnerable because of the body that I have. The reason why the things that I write do seem vulnerable is because they are probably coming from a deeper place of vulnerability because I'm being pushed there by society." – Tammy Reynolds
VAL QAEDA
Cut The Thread is a new intimate performance work for one audience member at a time, performed in the LGBTQ+ bar and club spaces where she found solace in the early days of her coming out. Drawn from the artists Muslim upbringing, the piece explores the tensions between religious background and sexual identity. 
Sited in dark basement gay club, audiences follow a thread through the dark, discovering the artist kneeling on a prayer mat surrounded by saris and flower garlands. Ethereally lit, the smell of oud is in the air. The artist holds the other end of the thread, which becomes a connective link between performer and audience, acting as a point of connection and tension between artist and audience. Using lipsync performance and beautiful religious music, the piece is a powerfully serene illumination of the difficulties of holding multiple identities within a single person.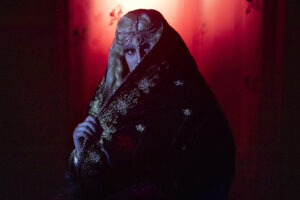 The work takes as it's starting point a quote by the founder of the Tasneem Institute, Shaykh Azhar Nasser: "I've met many muslims who don't practice yet they still identify as Muslim and that's a good thing. If someone is hanging on to Islam by a thread, don't cut that thread. Shaykh Azhar Nasseri've met many muslims who don't practice yet they still identify as Muslim and that's a good thing. If someone is hanging on to Islam by a thread, don't cut that thread."
"Magical. Secretive. Personal. The juxtaposition of dingy basement and the otherworldy beauty of the performance was really powerful." – Audience Member
ARTIST TALKS
As we were aware that the artists who applied may be new to working in this form, we presented a talk from three artists whose intimate performance work inspires us; Jo Bannon, Tania El Khoury and Rosana Cade. You can watch the talks here.
CREDITS

This project was kindly supported by Arts Council England with National Lottery Project Grants funding.