Actress + Young Paint (Live AV/AI) + Zoë Mc Pherson

Fri Mar 08 - 6:30pm
Actress + Young Paint (Live AV/AI) + Zoë Mc Pherson
Live AV and artificial intelligence combine as Young Paint performs live on stage in collaboration with Actress.
Due to unforeseen circumstances this event has been cancelled. All ticket buyers will receive notification via email and refunds given within 5 working days of email receipt. Our sincere apologies.  
UK PREMIERE
Submerge and Colston hall present legendary electronic producer Actress (Darren J. Cunningham) with a spectacular new live audiovisual show exploring the creative and social potentials of machine learning and artificial intelligence.
Presented as a live collaboration between artist and AI sprite Young Paint, Actress has developed a two-way process for communicating with the AI that learns and assimilates the sounds of the artist himself, to give shape to something completely new; a digital duet between man and machine.
Actress
Throughout his 15 year career Darren J. Cunningham (aka Actress) has established himself as one of the pre-eminent and singular voices in UK electronic music. His work has been released by a variety of different recording labels, which most prominently include Ninja Tune, Honest Jon's Records, Nonplus Records, and Werkdiscs, a label he co-founded in 2004.
In addition to his recorded work, Actress has been photographed by Wolfgang Tillmans, and the late celebrated photographer Lord Snowden.  He has worked collaboratively on projects with White Cube artist Eddie Peake, Mehdi Lacoste, Dan Emmerson and Belgian visual artist Pierre Debusschere, as well as fronting campaigns for Fashion brands Acne and Cav Empt, during which he has performed sell out shows at The Barbican Center and Tate Modern London, Sonar Tokyo and Berghain Berlin.
Young Paint
Young Paint has been progressively learning and emulating the shadowy, unpredictable, UK bass- and rave-inspired music of Actress since early 2018. The AI-based character has spent time programming and arranging Cunningham's sonic palette, learning not only how to react to his work, but also to take the lead with the occasional solo.
For this show a life-size projection of Young Paint working in a virtual studio will parallel Cunningham's performance on stage, visualising their collaboration. The duo released a mini-album this October via Werk__Ltd. (a new collaborative label between The Vinyl Factory and Actress), which delivers a sneak peak of these improvisational ventures.
We want to expose the real time process as much a possible. It's process art; I'm going to expose the sinews.
Zoë Mc Pherson
Zoë Mc Pherson is an interdisciplinary artist based between Brussels and Berlin whose kaleidoscopic output channels a myriad of sources and research including Inuit culture, hybridity, Kurdish feminism, polyrhythms and the practice of Cat's Cradle.
Her kinetic AV performance occupies a singular space at the intersection between forward-thinking club music, audio-visual culture and sound art, with recent performances including Berlin Boiler Room, Eupen Meakusma Festival, Amsterdam De School and Nottingham Contemporary. An associate artist at Beursschouwburg Brussels, she is currently collaborating with choreographer David Hernandez on a new work which will be premiered at STUK Leuven in 2019.
AGE RESTRICTION
14+ (under 16s with an adult)
CREDITS
Presented in partnership by Submerge and Colston Hall
Where?
SWX
Multi-faceted city centre venue hosting high calibre DJs, bands and live artists.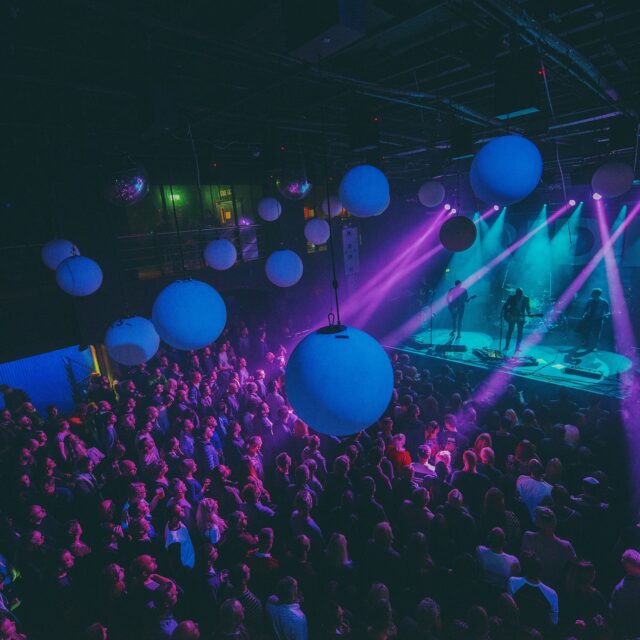 2022 Programme
A citywide festival of innovative performance, music and creative technology presented over two weekends in March. Learn More