Submerge Talks 3: Making Mechanical Techno – Graham Dunning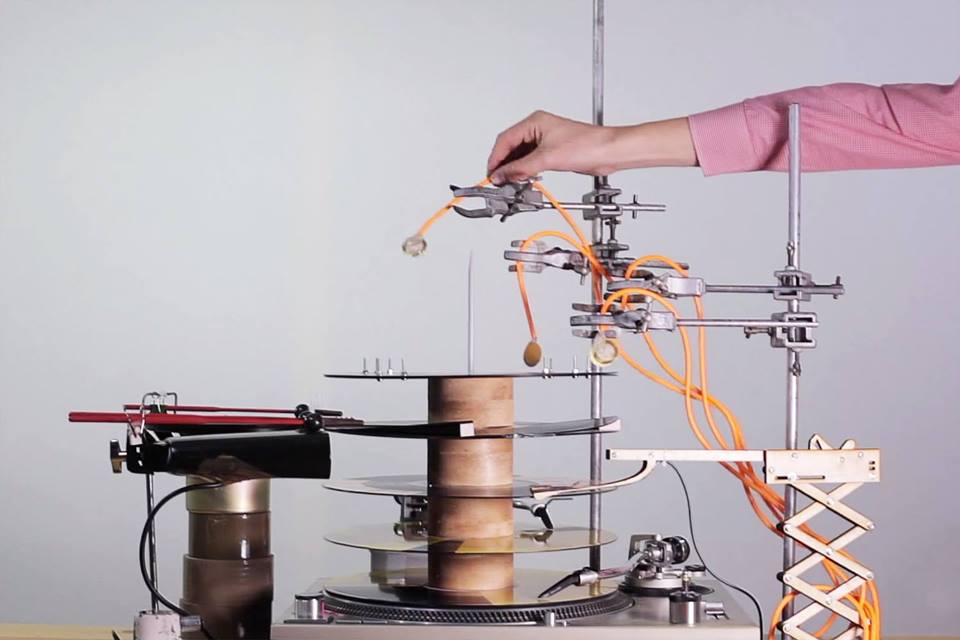 Watershed / Mar 08 - 1:00PM
This is a free event as part of the Pervasive Media Studio Lunchtime Talks Series and does not require a ticket. Limited capacity, first come first served!
Artist and musician Graham Dunning presents a talk and demo of his incredible 'Mechanical Techno' installation for live performing of hand crafted physical turntables. Attendees will also have the opportunity to interact with the machine after the talk and demo.
Graham Dunning is self-taught as an artist and musician having studied neither discipline academically. He has performed solo and in ensembles across the UK, Switzerland and Norway, and shown solo sound installations in the UK, New Zealand and USA. He teaches Experimental Sound Art at the Mary Ward Centre in London and also gives various independent workshops. Dunning has solo releases on Entr'acte and various DIY labels.
LUNCHTIME TALKS

Lunchtime Talks are a series of informal presentations at Watershed's Pervasive Media Studio. They normally take place at 13:00 on a Friday, are free and are open to everybody who is interested in what they do. Come along, bring a sandwich, and get to know more about the Studio community, current and up-coming projects, or residents' work.
After the talk, you can stay at the Studio for the afternoon to continue the conversation or work on your own projects. The Studio provides chairs, tables, wireless and a great space. You bring what you need to work with (laptop/mobile). The open afternoons close at 17:00, usually with a trip to the Café/Bar.
The Pervasive Media Studio is located within the Watershed building. Let them know if you'd like a tour of the space and they'll be happy to show you around! Send an email to [email protected]
Where?
Watershed
Independent cultural cinema, talent development hub and centre for creative technology and digital innovation.